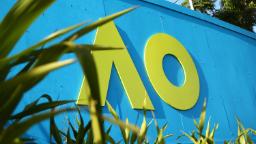 It's a sentiment perhaps shared by some
tennis
stars, who locked in their hotel rooms for two weeks with no human interaction ahead of the
Australian Open
, appear to be having a fair bit of contact with said tim'rous beasties.
Notably world No. 28 Yulia Putintseva, who was forced to swap rooms in her quarantine hotel in Melbourne after she discovered a mouse, only to find out that her new room was also infested.
In a video she posted on Twitter, the Kazakhstan player said: "Different room same story. Wanted to go to sleep but noooope!"
The 26-year-old followed up with another video saying: "It's actually a lot of them! Not even 1 in my room now."
As a strategy to deal with any mice in hotel rooms, Victoria's emergency services minister Lisa Neville recommended not feeding them.
"As I understand there may have been some feeding going on," Neville
told
CNN affiliate 9news.
"Firstly, we moved the particular tennis player the other day. We've had the hotel pest control this week and I think there may have been some feeding going on with the mice."
Putintseva is one of the 72 players and their teams that have been forced to quarantine in their hotel rooms for 14 days after their arrival in Australia ahead of 2021's first grand slam.
Without the ability to go out and train ahead of the tournament, players have voiced their frustrations, including record eight-time Australian Open men's singles winner Novak Djokovic, who put forward a list of proposals that would loosen the restrictions on the quarantining stars, including moving players to houses with courts, better food, and reducing the number of days in isolation.
Putintseva herself was one of the first players to complain about the treatment of the players, raising concerns about the lack of fresh air and the fact windows can't be opened.