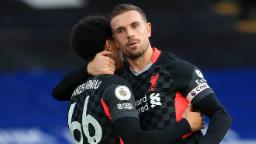 Henderson has partnered with the Cybersmile Foundation, an organization that aims to provide support for victims of cyberbullying and promote a positive use of the internet.
The England international said he was close to deleting all his social media accounts, but said he "wasn't quite sure who that helps."
Henderson's Liverpool teammates Trent Alexander-Arnold and Naby Keita were racially abused on social media following
Liverpool's 3-1 defeat to Real Madrid
in the Champions League on Tuesday.
"I partnered with Cybersmile for the People Not Profiles campaign because the problem of online abuse is continuing to destroy lives every day," Henderson said.
"It has been great working with Cybersmile to address such an important issue and it is my hope that this campaign raises awareness of how seriously online abuse can affect people and also lets people know there is help and support available to them."
In his tweets, Henderson added that "platforms should be doing more" and he doesn't "really see much changing."
Social media companies have come in for widespread criticism for allowing footballers to continue being racially abused on their platforms.
When contacted for comment by CNN, Twitter referred back to a statement it published on its website back on February 19.
"Alongside our partners in football, we condemn racism in all its forms," the statement reads. "Racist behavior, abuse and harassment have absolutely no place on our service.
"At Twitter, protecting the health of the public conversation is essential to us, and this means making sure Twitter is a safe place to express yourself and follow the conversation about football, without fear of abuse or intimidation."
Facebook was not immediately available for comment when contacted by CNN.
Henderson's announcement came on the same day that Championship club Swansea City and Scottish Premiership club Rangers announced they would be boycotting all social media channels for a week due to their players being racially abused online.
Swansea players Yan Dhanda, Jamal Lowe and Jamal Lowe have all received racist abuse on social media this year.
Following Swansea's FA Cup defeat to Manchester City on February 10,
Dhanda was subjected to racist abuse on Instagram
. He later said Facebook, which owns Instagram, had added "more fuel for hate" by not banning the account from its platform, instead only restricting the user from sending private messages "for a set period of time."
"This decision has been taken as a result of conversations between senior club staff, players and management," Swansea said in a statement.
"As a football club, we have seen several of our players subjected to abhorrent abuse in the past seven weeks alone, and we feel it is right to take a stand against behavior that is a blight on our sport, and society at large."
UEFA, European football's governing body, is investigating the alleged racist abuse received by Rangers midfielder Glen Kamara against Slavia Prague in the Europa League on March 18. Slavia Prague has outright denied the claims in a statement on the club's website.
Speaking to ITV on Thursday, Kamara said he has received racist abuse online "every day" since the incident.
Rangers said its reason for the boycott was "to underline the ongoing concerns over a lack of accountability and responsibility from social media outlets."
"In particular, we are concerned with the daily racist abuse our players have to endure, and believe that although social media can be a very positive and healthy platform for communication, there is undoubted concern the levels of hate are now spiraling out of control," it said in a statement.