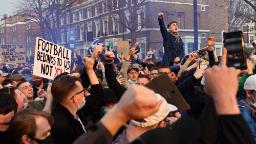 The Super League wanted to guarantee 15 clubs a place in a 20-team competition every season, regardless of performance on the pitch.
Criticism from fans was instant and fierce, as protests popped up around the grounds of the clubs involved and the project imploded.
In a statement, and described as a "gesture of goodwill", the six clubs have agreed to pay a combined total of $31 million that "will go towards the good of the game, including new investment in support for fans, grassroots football and community programs."
New rule changes have also been supported by the clubs involved "so that any similar actions in the future" would lead to a 30-point deduction. Each of the six clubs, in that event, would also be subject to an additional $35 million fine.
European Court of Justice
Earlier in May, Real Madrid, Barça and Juve had issued a joint statement announcing that despite "the unacceptable and ongoing pressures and threats received from UEFA," they intended to persevere in seeking a solution to what they call an "unsustainable situation in the football industry."
Later on Wednesday, the UEFA Appeals Body said it "has decided to stay the proceedings until further notice."
"UEFA notes that the decision to temporarily stay the proceedings has been taken by the UEFA Appeals Body following the formal notification made to UEFA by the Swiss competent authorities on 2 June 2021 of an ex-parte court order obtained on 20 April 2021 by the legal entity European Super League Company SL from the Madrid Commercial Court No. 17 (the "Court Order")," said European football's governing body in a statement.
"In reliance on the Court Order, the mentioned three clubs have sought to shield themselves from potential disciplinary consequences related to this so-called 'Super League' project," added the UEFA statement.
The Super League's defense is led by law firm Clifford Chance and lawyer Jean-Louis Dupont, architect of the "Bosman case" and the "Meca-Medina case", and also by the Belgian expert Martin Hissel, according to EFE.
Dupont was part of the legal team which represented Belgian player Jean-Marc Bosman, whose successful battle to switch clubs at the end of his contract with Standard Liege changed the face of the football transfer market. Players are now allowed to move on free transfers when their deals with clubs expire.