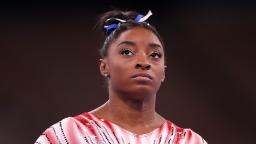 US gymnast Simone Biles competes in the balance beam final on Tuesday, August 3. She won the bronze in her much-anticipated return to competition.
Biles scored an even 14.000 points in Tuesday's competition, with a 6.1 in difficulty and 7.9 in execution. Gold medalist Guan Chenchen finished at 14.633, and silver medalist Tang Xijing had a score of 14.233.
From left, Tang, Guan and Biles pose with their medals.
Biles performs her beam routine on Tuesday. She also won bronze in this event at the 2016 Olympics.
This was Biles' first competition since she withdrew from the team all-around last week.
Biles was the third of eight gymnasts to compete on the beam Tuesday.
The International Gymnastics Federation said Biles' set consisted of the following: "3/1 wolf turn. Front aerial, jumps. Back handspring to two layout stepouts. Switch to switch 1/2, pause, back pike. Side aerial. And two back handsprings to terrific double pike dismount!"
Before starting her routine, Biles took some deep breathes as the crowd began to get excited.
Biles begins her routine on Tuesday.
Biles had pulled out of several events over the past week, citing mental health concerns. "Physically and mentally it was not safe for me to do (other events) because I could not do the skills without jeopardizing my health and safety," Biles said after her balance beam bronze. She said "the only reason why I could do beam was because there was no twisting. So, thank God for that."
Biles prepares to start her routine.
Biles reacts after her routine. When she was done, she received a standing ovation.
Biles claps after finishing her routine Tuesday.
Coach Cecile Canqueteau-Landi congratulates Biles as it becomes evident she will earn a medal.
Biles watches Tang and Guan embrace after the event.
Biles poses with her bronze medal Tuesday. "It definitely feels more special, this bronze, than the balance beam bronze at Rio," she said. "I will cherish it for a long time." Biles now has seven Olympic medals, tying her with Shannon Miller for the most by an American gymnast.
Biles sits next to coach Cecile Canqueteau-Landi during the warm-up Tuesday.
Biles waves to the crowd prior to the event. Biles and Lee got the loudest cheer as the athletes were introduced to the crowd.
"It's been a very long week, a very long five years," Biles said. "I didn't expect to medal today. I just wanted to go out and do it for me, and that's what I did."