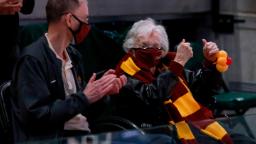 The 101-year-old nun reached TV fame in 2018 after cameras showed her pre-game prayer and her cheering from the sidelines as the team went on a Cinderella run at the NCAA tournament.
Three years on and her love for the team has only strengthened and now, fully vaccinated against Covid-19, she's enjoying watching Loyola compete in this year's March Madness.
Speaking to CNN's Coy Wire, the chaplain reveals how she helps motivate the players with her prayers.
"I plan them — every one. You should see the collection I have in my room. I never say the same prayer, any time, over the years. It's always different for every game," she says.
Her mere presence has seemingly helped, with the team defeating No. 1 seed Illinois on Sunday to set up a Sweet 16 encounter against Oregon State on Saturday.
The NCAA is using six sites to host games this year, limiting the number of fans that attend all rounds of the men's tournament to up to 25% of each arena's capacity, according to the NCAA championship safety overview.
All fans and others on-site must wear masks and practice social distancing, the NCAA said.
Watch the video above to hear more from Sister Jean and her love for Loyola.