CNN
—  
When Sky Brown took her last run in the women's park skateboarding final at the Tokyo Olympics, she knew she had to step up.
Making mistakes in her first two runs, she went into her final attempt a few points behind Misugu Okamoto, needing to beat the 15-year-old Japanese skateboarder for third place.
And that's exactly what 13-year-old Brown did: achieving a flawless final run complete with a kickflip indy to score 56.47 to take bronze – making history as Great Britain's youngest-ever medal winner.
"This is probably, honestly, one of the best memories ever," she told CNN Sport's Coy Wire.
As soon as Brown nailed her run, the Ariake Urban Arena erupted with the spirit of humility and sportsmanship, as she was immediately flanked by her peers in a moving display of solidarity.
In fact, each of the competitors embraced each other every time they finished a run in the final. According to Brown, the unanimous support and encouragement exhibited at Tokyo is part and parcel of the sport.
"Skateboarding is one big family," she says. "We push each other and we have fun together, and I think skateboarding is just a friendly sport."
The British skateboarding prodigy shared the podium with Japan's gold medalist Sakura Yosozumi and silver medalist Kokona Hiraki, who she refers to as "two of my favorite people."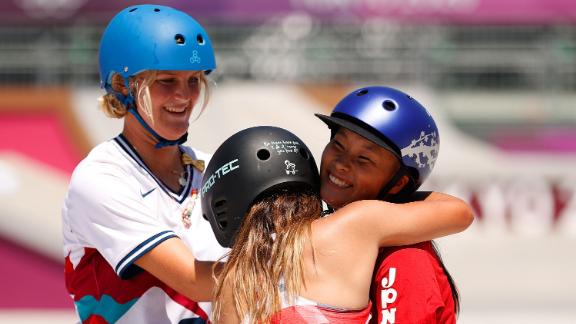 Ezra Shaw/Getty Images
Sky Brown hugs Sakura Yosozumi during the women's skateboarding park finals at the Tokyo Olympics.
"I have lots of heroes. I look up to so many people," she says, counting Brazilian skateboarders Leticia Bufoni and Rayssa Leal – the latter claiming silver in the women's street skateboarding event at Tokyo – as two of her role models "right now."
Brown is certainly inspired by older skateboarders in the sport, but she also hopes to use her platform to inspire a younger generation of athletes to work hard and believe in their dreams.
"Get out there, believe in yourself and try your best. But you've got to have fun, you've got to enjoy it," she says.
For an athlete who hasn't had an easy journey to the Olympics, Brown radiates positivity.
She took up the sport when she was three under her father's supervision, learning tricks on YouTube and eventually enrolling in Great Britain's skateboarding program.
Adam Pretty/Getty Images
Brown started skateboarding at age three, teaching herself tricks by watching YouTube videos.
However, in May 2020, she endured a life-threatening injury when she fell 15 feet while training, landing on hard ground and sustaining a fractured skull, broken left wrist and hand, and lacerations to her lungs and stomach.
But she didn't give up on her Olympic dream, posting on Instagram, "I'm excited to come back even stronger and even tougher. My heart wants to go so hard right now. I'm just waiting for my body to catch up."
Her motto for young girls chasing their ambitions? "Be brave, be strong, have fun and do it because you love it," she tells CNN Sport.
"Don't let anybody stop you, get out there and prove people wrong."
From being unveiled as a Barbie Role Model to writing a book to winning the Summer X Games in 2021, Brown has packed a lot into the life of someone who's barely a teenager.
Already looking to compete at the Paris 2024 Olympics – where she told BBC Sport she's hoping to take part in skating and surfing events – Brown is always one step ahead of the curve.
While she insists that she's having "the best time ever" competing at global venues with her peers, she's also trying to savor every moment, so she can "take it slow and enjoy the journey."
"I think it's important to not just do one thing. Do all different kinds of things because life's too short," she says.