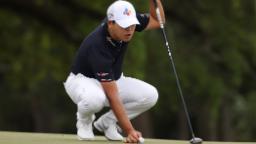 Justin Rose eyes a par putt on the first hole Friday. Rose held a one-shot lead at the Masters heading into the weekend.
People spread out from one another as they watch Tommy Fleetwood putt on the 16th green Friday.
Bryson DeChambeau, last year's US Open champion, plays a shot on the 13th hole Friday.
Former US Secretary of State Condoleezza Rice, left, watches the action Friday along with fellow Augusta National member Heidi Ueberroth.
Former Masters champion Jordan Spieth walks past the azaleas on the sixth fairway Friday. He finished with a 4-under 68 to move just a couple of shots away from the lead.
Lee Elder acknowledges applause as he joins Gary Player and Jack Nicklaus as honorary starters on Thursday. In 1975, Elder became the first African American to ever play in the Masters.
Dustin Johnson, last year's Masters champion, plays a shot on the second hole Thursday.
Rose hits out of a bunker on the second hole Thursday. He shot a 7-under 65 to take a four-shot lead after the first round.
This is the first time in two years that the Masters has allowed spectators on the course.
Spieth hits a tee shot Thursday.
Four-time major winner Brooks Koepka had knee surgery less than a month ago, but he was on the course for Thursday's first round.
Rory McIlroy hits out of the rough on the sixth hole Thursday.
Two-time Masters champ Bubba Watson hits out of a bunker on the first hole Thursday.
Fans watch some of the first-round play on Thursday.
Max Homa walks down the 18th fairway on Thursday.
Joaquin Niemann looks for his ball on the 10th hole Thursday.
During a practice round on Wednesday, Ian Poulter takes a Hogan Bridge selfie with his playing partners and their caddies.
McIlroy and Justin Thomas walk across the Sarazen Bridge during a practice round on Tuesday.
Azaleas frame the 16th green on Monday.