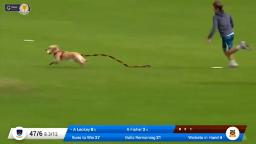 CSNI CC and Bready Cricket Club were playing out the closing stages of their Women's All-Ireland T20 match when a dog appeared out of nowhere.
The players and commentators were then left in hysterics as the furry pitch invader snatched up the loose ball from the outfield, with its owner desperately trying to chase it down.
Fortunately, batter Aoife Fisher managed to coax the dog over to her and retrieve the ball, with the commentators joking that it would probably now "need a clean."
"I think this has brought Covid regulations to a whole new standard," they laughed.
Watch the paw-fect pitch invasion in the video above.