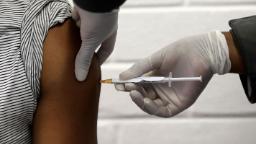 The findings, which come a week after the
first million doses of the Oxford-AstraZeneca vaccine
arrived in South Africa, are a damaging setback for the country's efforts to curtail the pandemic. More than 46,000 people are known to have died from Covid-19 there, and overall cases, which have topped 1.4 million, are now largely being driven by the new variant.
It's also a big blow for the Oxford-AstraZeneca vaccine, which has been hailed for its low cost and easy storage as one of the world's best hopes for defeating the virus. And the study is yet another worrying sign of the risks that new mutations pose to vaccine development and deployment, with herd immunity appearing increasingly less achievable.
The B.1.351 variant has been identified in at least 41 countries, including the United States, according to the World Health Organization (WHO). Other variants first spotted in the United Kingdom and Brazil have been detected in dozens more. And they're spreading rapidly.
It was not clear from the study, which has not yet been peer reviewed, whether the Oxford-AstraZeneca vaccine protected against severe disease from the B.1.351 variant. The 2,000 clinical trial participants were mostly young healthy adults, unlikely to become severely ill. But based on immune responses detected in their blood samples, scientists said there was "still some hope" that the vaccine could protect against more severe cases.
An AstraZeneca spokesperson said in a statement that the company was working with Oxford University to adapt the vaccine against the B.1.351 variant so "it is ready for autumn delivery should it be needed." Several other manufacturers have said they are trying to address the issue of variants by developing booster shots.
WHO's independent vaccine panel will meet Monday to discuss the AstraZeneca vaccine and what the new study means for vaccines going forward.
YOU ASKED. WE ANSWERED.
Q: How do coronavirus variants come about?
A: Viruses change all the time and most of the changes, or mutations, are harmless. But sometimes one of the pieces of the virus will acquire a change that gives it an advantage, and that one will come to dominate in a population. And, sometimes, that change can be harmful to the people it infects. Other times, it makes it easier for the virus to be transmitted.
"Calling these things the African variant, the Brazilian variant, may not be so accurate," Walker, director of the Ragon Institute of Massachusetts General Hospital, MIT and Harvard, said. "I'm not sure that any mutations that are now being detected aren't just being generated in different countries but along similar paths."
WHAT'S IMPORTANT TODAY
Fears Super Bowl will bring coronavirus surge
"When people get together in private residences in close proximity, that is one of the single most effective ways to spread this disease," Kentucky Public Health Commissioner Dr. Steven Stack said. "We can't afford to have the disease spread now, with these mutations and these variants."
Inside Malawi's Covid-19 wards, the impact of vaccine nationalism is all too clear
A dramatic second wave of Covid-19 in Malawi, fueled by the new variant first discovered in neighboring South Africa, has inundated much of its health infrastructure, leaving many families to make agonizing choices and exposing the danger of deep inequalities in vaccine distribution.
"I used to do regular rounds at district hospitals. It was a way for us to ensure the quality of care across the country," says Dr. Tamara Phiri, a specialist treating Covid-19 patients at Queen Elizabeth Central Hospital in Blantyre, the largest hospital in southern Malawi.
Heartbreak and anger as China discourages travel for Lunar New Year
Normally at this time of year, hundreds of millions of Chinese people would be packing highways, trains and planes on homebound trips to celebrate the Lunar New Year with family.
But this year, the largest annual human migration on Earth has been put on hold, following the Chinese government's call to avoid "nonessential" trips during the holiday period to prevent a resurgence of the coronavirus. That is a lot to ask. The Lunar New Year, also known as Spring Festival in China, is the most important holiday in the Chinese calendar — the equivalent of Thanksgiving, Christmas and New Year's Eve combined.
ON OUR RADAR
TOP TIP
No one would blame you for being in a depressed state about the coronavirus. There is, however, at least some cause for optimism. In the US, the number of people getting the coronavirus is falling, and the number of people getting vaccinated is rising. It will only continue to rise as more and more vaccines are made available.
TODAY'S PODCAST
"I do have, you know, relatives who have expressed their concern to me about testing and being, quote unquote, lab rats as Black people for vaccines." — Jamecka Britton, a Black nurse in Atlanta