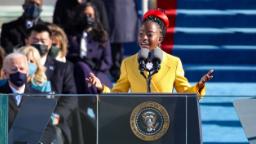 The first National Youth Poet Laureate, 22-year-old Gorman recited her stunning poem, "The Hill We Climb," at Joe Biden and Kamala Harris' inauguration on Wednesday.
Among other things, the composition movingly articulates what it will take to attain the unity that's been so vigorously called for since the deadly assault on the Capitol.
"Somehow we've weathered and witnessed / A nation that isn't broken / But simply unfinished," Gorman observes.
"We are striving to forge a union with purpose / To compose a country committed to all cultures, colors, characters and conditions of man," she adds later.
This tension — a kind of patriotism that's by turns trenchant and optimistic ("Let the globe, if nothing else, say this is true," Gorman declares, "That even as we hurt, we hoped") — brings to mind the words of James Baldwin.
"I love America more than any other country in the world, and, exactly for this reason, I insist on the right to criticize her perpetually," the intellectual titan wrote in his 1955 essay collection, "Notes of a Native Son."
Baldwin was critical of the US — but devoted nonetheless.
Notably, Gorman's poem mirrors Baldwin's thinking in another way, too: in the insistence on remembering history, taking it seriously.
"White man, hear me!" Baldwin implored in his 1965 essay, "The White Man's Guilt." "History, as nearly no one seems to know, is not merely something to be read. And it does not refer merely, or even principally, to the past. On the contrary, the great force of history comes from the fact that we carry it within us, are unconsciously controlled by it in many ways, and history is literally present in all that we do."
"The Hill We Climb" offers its own take on this conviction.
"It's because being American is more than a pride we inherit / It's the past we step into / And how we repair it / We've seen a force that would shatter our nation / Rather than share it," Gorman says, referring to the attack on the Capitol.
And later: "For while we have our eyes on the future / History has its eyes on us / This is the era of just redemption."
In the above lines, Gorman, in addition to nodding to the popular musical "Hamilton," which she's a big fan of, suggests that moving forward shouldn't mean moving on. Securing the noble ambition of unity shouldn't come at the expense of reckoning with racial animus that's never gone away but, rather, has just presented itself to a greater or lesser degree.