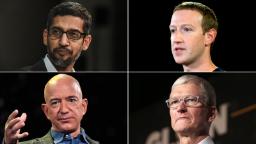 The European Commission released a set of draft policies
that would force companies to change their business practices. It amounts to the most aggressive legislative effort to rein in companies such as
Amazon
(AMZN)
,
Apple
(AAPL)
,
Google
(GOOGL)
and
Facebook
(FB)
to date, according to industry experts.
Very large social media companies and e-commerce sites face new obligations to remove illegal and harmful content from their platforms under the draft EU legislation called the Digital Services Act. A second proposal called the Digital Markets Act would subject firms that are branded "gatekeepers" to a list of dos and don'ts in order to prevent unfair competition. For example, such companies would be forbidden from using data obtained from business users to compete with them.
"The two proposals serve one purpose: to make sure that we, as users, have access to a wide choice of safe products and services online. And that businesses operating in Europe can freely and fairly compete online just as they do offline," Margrethe Vestager, the EU commissioner leading the charge on tech issues, said in a statement.
The United Kingdom, which left the European Union earlier this year, is also getting in on the act. Tech companies that fail to remove or limit the spread of illegal content will face fines of up to 10% of their annual sales under rules proposed on Tuesday.
"Europe is again out front in the world and taking fairly dramatic action on the tech regulation front far beyond what any other country or region … is contemplating or pursuing," said Thomas Vinje, a partner at the law firm Clifford Chance based in Brussels.
Companies that don't follow the proposed EU content policies could be fined up to 6% of global revenues, and repeat offenders could see their platforms temporarily banned. Existing powers to levy antitrust fines of up to 10% of global revenues will be extended to more areas, and in the future offenders could be forced to sell parts of their business if they continue to break the rules.
Tech companies are expected to push back strongly against the proposals.
"We look forward to working with EU policy makers to help ensure that the proposals meet the stated goals so that Europeans continue to reap all the benefits of digital products and services," the Computer and Communications Industry Association, a trade group that represents Amazon, Facebook, Twitter and Google, said in a statement. "We hope the future negotiations will seek to make the EU a leader in digital innovation, not just in digital regulation."
The proposed legislation — which could take years to enact, and may still face major revisions — adds to growing pressure on Big Tech around the world.
Vestager said at a press conference that actions taken by the European Union, the United States, Australia, Canada and Japan are "part of a global conversation."
"The important thing here is with size comes responsibility," she said.
In the United States, the federal government and states have launched landmark antitrust lawsuits against
Google
(GOOGL)
and
Facebook
(FB)
, directly challenging the dominance of Silicon Valley's top names. The Federal Trade Commission wants to
force Facebook to sell Instagram and WhatsApp
, breaking up the company.
The UK government warned it was prepared to ban platforms that fail to take the new rules seriously and impose criminal sanctions on senior managers.
"I'm unashamedly pro tech but that can't mean a tech free-for-all," UK Digital Secretary Oliver Dowden said in a statement. "We are entering a new age of accountability for tech to protect children and vulnerable users, to restore trust in this industry, and to enshrine in law safeguards for free speech."
A small group of companies with the largest online presences, including Facebook, TikTok and Twitter, will face the toughest regulations in the United Kingdom. They'll need to assess the risk of content "causing significant physical or psychological harm," make it easy for people to report harmful content and publish transparency reports on their efforts.
Europe's draft rules are an acknowledgment that region's
past efforts to preserve competition through lengthy investigations have not been effective in tackling behavior from the likes of Google and
Apple
(AAPL)
, and that more aggressive action is needed.
"The European antitrust cases take too long, and by the time they're resolved, the anti-competitive conduct has achieved its goal," Vinje said. "There has been a sense now for some time that something more needs to be done."
'Punishing successful companies'
The EU proposals drew a sharp rebuke from the powerful US Chamber of Commerce, which said it was "concerned" that the proposals "target American companies almost exclusively by imposing onerous new regulatory requirements backed by steep financial penalties."
"It seems Europe is intent on punishing successful companies that have made deep investments in Europe's economic growth and recovery," Chamber official Myron Brilliant said in a statement. "Moreover, these measures will not improve Europe's own competitiveness."
Some big US tech firms also expressed concerns.
"While we will review the Commission's proposals carefully over the coming days, we are concerned that they appear to specifically target a handful of companies and make it harder to develop new products to support small businesses in Europe," Karan Bhatia, Google's vice president of government affairs and public policy, said in a statement.
When asked for comment, Amazon pointed to a blog post earlier this month that stated it's in Europe's best interest to keep fostering innovation, and that it's spent hundreds of millions of dollars to prevent counterfeit goods and fraud on its platform.
Facebook took a cautious approach, saying the company believes the EU proposals are "on the right track to help preserve what is good about the internet."
Apple did not immediately respond to a request for comment.
— Chris Liakos contributed reporting.