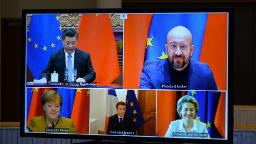 China has consistently denied accusations of forced labor and other human rights abuses in Xinjiang.
The statement went on to denounce "the continued transfer of forced laborers to other Chinese administrative divisions, and the fact that well-known European brands and companies have been benefiting from forced Chinese labor."
Wednesday's agreement will theoretically give those same companies greater access to China's tightly controlled market, and by extension, potentially to factories alleged to have been using forced labor.
"The fact that Beijing and Brussels can eventually meet each other half way after many years of negotiations has demonstrated a willingness by both sides to go beyond their differences for the sake of the greater good," Xinhua said in an editorial, adding "the lead up to this milestone breakthrough has been fraught with difficulty."
The Xinhua report made no mention of forced labor.
EU-China trade deal sidelines US
Trump's recent campaign against China, ramped up as the coronavirus pandemic has caused chaos and misery in the US, failed to get much support from Europe. Biden is expected to keep up the pressure on Beijing, albeit with more restrained rhetoric than Trump, partly by leveraging allies to counterbalance China.
That the US could not influence the agreement this week — with both Biden allies and members of the Trump administration criticizing the proposed deal — shows how complicated an issue China has become, and how difficult building a transatlantic partnership to contain Beijing might be in practice, even without Trump's often inflammatory rhetoric.