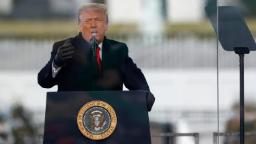 Former President Trump's second impeachment trial hit close to home as senators watched a video montage of what happened in their own chamber —and inside the US Capitol when a pro-Trump mob violently stormed the US Capitol complex on Jan. 6. 
The House impeachment managers showed a horrific video montage of the riots during their arguments on Tuesday, which some senators said brought them back to the day and the incredible danger they were all in. 
"That's probably the longest time I've spent actually watching video on that topic and it reminded me of what a horrendous day it was," Republican Sen. Roy Blunt told reporters Tuesday after the first day of the trial concluded.
When asked about the video montage, GOP Sen. Mike Braun said, "I don't think you ever get desensitized to that."
The Indiana Republican then recounted his personal experience during the riots, saying, "I was actually walking through the hallways when all that occurred. [Sen.] John Thune was running the opposite direction. Capitol Police that were with him said, 'Get back to your office and lock yourself in the door.' You never forget something like that."
Democratic Sen. Ben Ray Lujan told reporters that watching the video reminded him of "the danger everyone in the Capitol was in."
The New Mexico senator recalled the events that unfolded in the very room the trial is being held. 
"For me to see with my own eyes the Vice President of the United States rushed out when I did, after I only heard the mob getting louder and louder and then to see the officers that came in again with long guns on the Senate floor to guard Mr. McConnell," Lujan said referring to then Senate Majority Leader Mitch McConnell. "And then to be told this is a safe room: Don't worry, calm down, and then the staff was brought in and then the press was trying to figure out what's happening up in the gallery. And then moments later, to be told: shots were fired in the Capitol, get them out of here, move them out."
Democratic Sen. Debbie Stabenow said the video montage was "more impactful" than she thought it would be.
"I found myself at points nervously looking up in the gallery," the Michigan Democrat told reporters. "There were a couple of times where there were noises of something in the back, somebody dropping something and I noticed colleagues turning around, you know, a little bit on edge, watching all of that again."