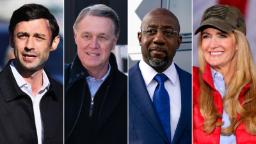 President-elect Joe Biden is at home tonight in Wilmington, Delaware, closely watching results from the Georgia Senate contests that could put an exclamation point on his campaign season.
"His presidency doesn't depend on it, but the early success and ease of his confirmations certainly do," a person close to Biden said, speaking about the stakes of the runoff races.
As the night wears on, Biden and his team are clear-eyed about Georgia. Even if Democrats win both races, which remained an uphill battle in the eyes of many advisers, he will still need to rely on winning some bipartisan support for any major legislative victories. 
But even before the outcome is known, advisers see at least one early sign of optimism: both Democratic candidates in Georgia ran as strong allies to Biden – and there were no whiffs of internal tensions among Democrats that have erupted throughout the party in other races last year and, of course, in Congress.
While the Georgia results will surely not resolve long term questions about the direction of the Democratic Party – particularly the ones already poised to erupt this year – Biden loyalists believe it offers a roadmap to how the party should govern and campaign.
The fact that both races are even in play tonight, allies to the President-elect say, is due to Biden expanding the map two months ago.
It's an open question whether that will be enough, however, as the races tighten dramatically.
The mood of a senior Democratic official watching the returns closely began turning a bit more pessimistic as the night moved along, saying turnout on Election Day wasn't as high in some areas as they had hoped.