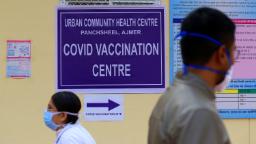 California reported Sunday that 45,352 people newly tested positive for Covid-19, continuing a surge that has pushed hospitals and their exhausted staff to the brink.
Around the United States, hospitals are racing to keep up with surges of Covid-19 patients at numbers they have not seen at any other time in the pandemic.
Overall, at least 125,000 people nationwide were in the hospital with coronavirus on Sunday, marking more than a month that the number of hospitalizations has exceeded 100,000, according to the Covid Tracking Project.
Emergency room officials in California said hospitals are treating an unprecedented number of coronavirus patients, including some health care workers.
At Kaiser Permanente San Jose Medical Center, 44 employees in the emergency department tested positive for the virus between December 27 and January 1, according to Irene Chavez, senior vice president and area manager.
Chavez said in a separate statement that the medical center is investigating whether an inflatable, air-powered costume may have played a role in the spread.
"A staff member did appear briefly in the emergency department on Dec. 25th wearing an air-powered costume," Chavez said. "Any exposure, if it occurred, would have been completely innocent, and quite accidental, as the individual had no Covid symptoms and only sought to lift the spirits of those around them during what is a very stressful time."
Chavez said in the statement that air-powered costumes will no longer be allowed at the facility.
Military support: In Southern California, design and construction experts from the US Army Corps of Engineers have been deployed to the Los Angeles area to "evaluate and where necessary upgrade oxygen delivery systems" at about a half dozen hospitals.
One area hospital converted administrative offices and break rooms into treatment areas for their coronavirus patients, said Col. Julie Balten, commander of the Los Angeles District for the Corps of Engineers.