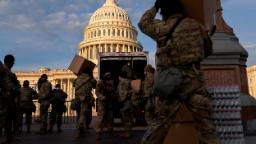 Washington, DC, Mayor Muriel Bowser again urged Americans to enjoy the inauguration virtually from home and asked anyone who does not need to be out in the city to avoid restricted areas.
Agencies involved in inauguration security briefed the public on their specific missions at a news conference Friday.  
MaryAnn Tierney, regional administrator for the Federal Emergency Management Agency, said President Trump's authorization of an emergency declaration has allowed for additional resources, including the deployment of incident management teams to Washington, DC, Maryland and Virginia. 
Following the Capitol siege, Bowser asked Trump for an emergency declaration in order to get additional funding for President-elect Joe Biden's inauguration as safety concerns mounted following the US Capitol breach.
On Monday, Trump declared that an emergency exists in the District of Columbia and ordered Federal assistance to supplement the District's response efforts from Jan. 11 to Jan. 24, 2021
FEMA, which is responsible for incident response and recovery, is also working to pre-stage ambulance resources and move commodities closer in, if needed.
DC mayor: We want to ensure a peaceful transition of power