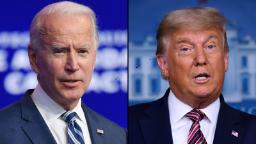 Trump offered his clearest indication yet that he understands his presidency is ending when he tweeted that he had told his team to do what is necessary "with regards to initial protocols." Yet given his past behavior, repeated denials of his defeat and attempts to shatter Biden's legitimacy, there will be serious questions over whether Trump will fully cooperate with the transition.
White House Chief of Staff Mark Meadows notified West Wing staff in a Monday night email shown to CNN that the transition process to was formally underway. According to the email, Meadows has appointed liaisons in each office to be the point of contact for the transition and said that person should deal with the incoming team, citing the Presidential Transition Act of 1963.
Trump's remaining two months in office, during which he will retain the institutional power of the presidency, leave him plenty of time to try to sabotage Biden's administration.
Still, Trump's outrageous bid to disenfranchise the votes of millions of Americans is destined to fail because election officials and the courts in the states largely did their duty and rejected his baseless claims of fraud. During the President's most dangerous attack on the institutions of the US political system, the center held.
'It's the end of the road'
Biden, much as he did in the Democratic primary and general election campaigns, is plowing ahead relentlessly, creating his own sense of inevitability, ignoring the President's tantrums. He made the best of the fact that power always flows to a new, aspirational administration yet to be tested by the impossible compromises of governing or the dents left by daily crises.
"It's the end of the road," one adviser said.
By withholding transition funding and access to government departments, Trump appears to have hoped to leave his successor's administration-to-be in a suffocating kind of limbo. But through his public actions, and by dictating news coverage while the President remains out of sight, behind the iron cage fence that rings his White House, Biden largely thwarted Trump's goal. His team will now move quickly to secure briefings on key issues including the pandemic as infections rage out of control and efforts begin to rev up a historic public health effort to vaccinate Americans that could restore a semblance of normalcy next year.
Murphy's decision followed a string of fresh blows to Trump's effort to steal the election, as Michigan's state board of canvassers formally certified Biden's victory and the Pennsylvania Supreme Court dealt another withering defeat to the President. Both decisions came despite vigorous White House efforts to pressure local and state officials to validate his effort to invalidate millions of legally cast votes.
Biden supporters interpreted Murphy's move in finally writing a letter of ascertainment to trigger the transition — apparently precipitated by the events in Michigan and Pennsylvania — as validation for his decision not to escalate a direct confrontation with Trump or to resort to legal action.
Bakari Sellers, a CNN commentator and former South Carolina state legislator, said the day's events demonstrated the seriousness of the incoming administration.
"The Joe Biden presidency is not built for Snapchat, it's not built for Twitter, it's built to govern," Sellers said on CNN's "The Situation Room."
A return to governance
Biden's flurry of Cabinet picks, which were revealed more quickly than had been initially expected, was an effective way of creating the stagecraft of a changing political era even as Trump sought to frustrate such perceptions.
One of the ways that Presidents transmit their intentions and values shines through in their initial picks for their administrations. President-elect Barack Obama assembled a group of rivals, seeking to create a vision of a vigorous intellectual team forging change. With characters like Rex Tillerson at the State Department and retired Gen. James Mattis, then still referred to by his old Marine nickname, "Mad Dog," at the Defense Department, Trump's early nominations strode out of central casting — a key consideration for the former reality star who interprets life through television.
Biden's selections, by contrast, are notable for their lack of flash. Many Americans will not have heard of Blinken, new national security adviser Jake Sullivan or Biden's nominee for director of national intelligence, Avril Haines.
In turning to Blinken and Sullivan, long a Democratic rising star, to helm foreign policy, Biden is making a statement that Trump's "America First" approach is heading for the scrap heap and he will pursue a pragmatic approach based on restoring US global leadership and multiplying US power through a revived system of alliances. US allies that have become accustomed to being berated by the President will be relieved at the promise of some strategic stability.
Trump to unveil pardons …. of Thanksgiving turkeys
Even before the transition became official and Trump was hammered by new legal reversals, it was already becoming clear that his effort to challenge the election was running out of steam.
Capito called for a transition to begin and warned that the President's legal options were narrowing.
"I will respect the certified results and will congratulate our nation's new leaders, regardless of the policy differences I might have with them," she said in a statement that encapsulated the political quicksand enveloping Trump.
CNN's Kaitlan Collins contributed to this report.