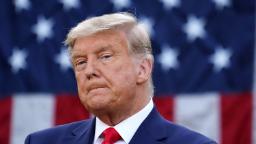 In recent days, more Republicans have spoken out — even though party leaders and a vast majority of congressional Republicans continue to back Trump's efforts to challenge the results.
Sen. Lamar Alexander of Tennessee, Rep. Kay Granger of Texas and Rep. Fred Upton of Michigan — all senior Republicans — have each raised concerns in recent days about the transition of power.
Their pleas come as Trump has yet to concede the general election, and the General Services Administration has
yet to formally recognize President-elect Joe Biden's victory
, thus denying him access to contacts with federal agencies, funding to help ramp up government hiring for the new administration and access to classified intelligence briefings. The delayed transition has sparked concerns about national security and the impacts it could have on the incoming Biden administration's Covid-19 response, especially the distribution of a vaccine.
"If there is any chance whatsoever that Joe Biden will be the next president, and it looks like he has a very good chance, the Trump Administration should provide the Biden team with all transition materials, resources, and meetings necessary to ensure a smooth transition so that both sides are ready on day one. That especially should be true, for example, on vaccine distribution," Alexander, who chairs the influential Senate Committee on Health, Education, Labor and Pensions, wrote in a statement Friday, highlighting the impact the transition could have on pandemic response.
Similarly, when asked about Trump's efforts to overturn the election results Friday, Granger told CNN she has "great concerns about it," adding, "I think that it's time to move on."
Granger, a veteran Texas Republican, added Friday that Trump should be transparent about the situation.
"I think it's time for him to really realize and be very clear about what's going on," Granger said.
When asked Thursday if Trump should concede, Upton, a senior Michigan Republican who was targeted by Democrats but won his reelection bid by 16 points, said, "Yeah. I think it's all said and done."
Upton also dismissed any evidence of voter fraud in his home state.
Rep. Adam Kinzinger, an Illinois Republican, said he's worried Trump's claims are shaking the core of democracy.
"What I have a real issue with is making unfounded claims of fraud and illegitimacy," Kinzinger said. "And that has a real damaging effect."
A GOP Senate source told CNN that the combination of Giuliani's news conference, as well as the President meddling in the Michigan election process, has some GOP senators reconsidering their silence. This source says most had hoped that Trump's tirade would have worked itself out by now, but his actions in the last 24 hours make that hope seem more and more distant.
According to the same source, a handful of GOP senators are talking about whether and how to interject in a way that will be most effective with the President. There is some talk of trying to speak to Trump and trying to implore him to go out on a high note by touting wins in the House, as well as helping win the two outstanding US Senate seats in Georgia and taking credit for the Covid-19 vaccine movement, among other accomplishments.
The source emphasized, however, that this is not a leadership position right now — more rank and file Republicans.
Even as some GOP lawmakers are starting to speak out about Trump's attacks on the election results, a wide array of Republicans continue to back the President — and some are endorsing his long-shot strategy of winning in the Electoral College and subverting the will of voters in key battleground states.
North Carolina Rep. Richard Hudson, who will serve on the House GOP's leadership team in the next Congress, on Friday characterized the unsubstantiated allegations leveled by the Trump team as "breathtaking" and "serious enough that they need to be investigated."
Hudson said "yes," states should delay certifying the results until the allegations are "adequately investigated."
Asked if he'd be OK if state legislatures named electors that differed from the outcome of the vote counts in their states, Hudson told CNN: "Yeah, that's the constitutional process."
"I mean, it's breathtaking to think about," Hudson said of the allegations. "And if it's not true, then there needs to be a reckoning on our side."
Federal law encourages states to resolve disputes over vote-counting by December 8, six days before electors meet in their state capitals to cast their ballots. If Biden's win is certified by December 8, Congress must recognize the pro-Biden electors.
Under the long-shot theory, Republican-led legislatures could appoint pro-Trump slates of presidential electors, even if Biden carried the popular vote in their state, assuming a state has not certified the vote in time.
Asked on Thursday if his state should delay certifying the election, Arizona Rep. Paul Gosar told CNN: "I believe it should." Gosar also said the "state has the ability" to name its own electors to the Electoral College if the results aren't certified as part of the "system set up by our founders." And when asked if he would support the state legislature naming its own electors, Gosar said: "I do."
This story has been updated with additional developments Friday.
CNN's Dana Bash and Sarah Fortinsky contributed to this report.