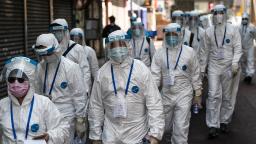 At least 195 cases of a coronavirus variant first identified in the UK have been identified across 22 US states, according to the US Centers for Disease Control and Prevention (CDC).
States with most cases of the new variant:
California: 72
Florida: 50
New York: 22
The following states have reported fewer than seven cases each: Colorado, Connecticut, Georgia, Illinois, Indiana, Louisiana, Maryland, Massachusetts, Michigan, Minnesota, New Jersey, New Mexico, Oregon, Pennsylvania, Tennessee, Texas, Utah, Wisconsin and Wyoming.
The CDC says the tally does not represent the total number of cases circulating in the US, but rather just those found by analyzing positive samples. The agency cautions that its numbers may not immediately match those of state and local health departments.
The variant — which is known as B.1.1.7 and appears to spread more easily — has also been found in at least 60 countries worldwide, according to the World Health Organization.