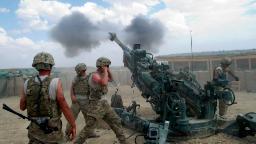 The intelligence, which will be declassified by the Trump administration, was provided to the President in his daily brief on December 17, the official said. His national security adviser Robert O'Brien discussed the information with the President that same day, the official said.
Information of this alleged intelligence is thus far uncorroborated. The scenario is reminiscent of reports earlier this year that Russia allegedly offered Afghan militants bounties to kill US forces in Afghanistan. That information also appeared in the
President's intelligence briefing
although it was later revealed that the information likely went unnoticed for weeks.
Trump has yet to publicly call Russia out on the issue.
While it's unclear whether President-elect Joe Biden has seen the intelligence, he would have had access to the same intelligence since he receives the President's Daily Brief.
The White House and the Biden transition team didn't immediately respond to a request for comment.
This is a breaking story and will be updated.
CNN's Paul LeBlanc, Nick Paton Walsh, Veronica Stracqualursi, Radina Gigova, Barbara Starr, Devan Cole and Sarah Westwood contributed to this report.