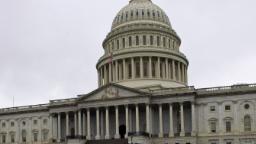 The vote would target acting USCP Chief Yogananda Pittman, who was promoted into the agency's top job following the resignation of Steven Sund after the insurrection. At least four additional chiefs may be targeted as part of any no-confidence vote, the three sources said.
News of the discussion comes
as Pittman spoke to congressional members
during a closed-door briefing Tuesday, where she said the "department failed to meet its own high standards" on January 6, adding that police "knew there was a strong potential for violence and that Congress was the target."
One source told CNN that Pittman was the operational chief that day and "never took control of the radio or commanded officers what to do in any way shape or form."
One Capitol police source said stewards from the USCP Labor Committee, the union representing rank-and-file officers, visited section roll calls to take the temperature of officers on the potential no-confidence vote.
Another source within the department says a no-confidence vote was likely forthcoming for senior leadership. "The rank-and-file of this department has no faith in any of our chiefs, especially the ones in that were here on January 6th," the source told CNN.
A Capitol Police spokeswoman did not immediately respond to a request from CNN for comment.
Union President Gus Papathanasiou told CNN that no vote is underway. "Officers have been calling for a vote of no confidence since January 6th," Papathanasiou said. "At this time we have not initiated a vote of no confidence. Doesn't mean we can't think about it. There's a big difference."
Officers have told CNN that they felt abandoned and betrayed by the department's leadership.
Prior to her appointment, Pittman had served as head of intelligence operations since October 2019. In that role, Pittman was responsible for the safety and security of the US Capitol, congressional members, congressional staff and Capitol visitors, including detecting any threat and preventing it. On the day of the insurrection, she was second in command of the US Capitol Police force.
In her prepared remarks Tuesday, Pittman outlined the department's failure to act on intelligence that pointed to a likelihood of violence.
"We knew that militia groups and White supremacists organizations would be attending. We also knew that some of these participants were intending to bring firearms and other weapons to the event. We knew that there was a strong potential for violence and that Congress was the target," she said.
The department responded to the threat by canceling days off for some officers and putting civil disturbance teams on standby. The SWAT team was available to wade into the crowd to make arrests, though officers told CNN that was not possible because of how badly officers were outnumbered that day.
Officers also described to CNN a hasty attempt to get helmets into the hands of officers before the event, without clear instruction on when to use them and where to store them.
Pittman said the department had adopted a new perimeter around the Capitol based on "instructions it received from the House and Senate sergeants-at-arms." But officers have told CNN, and videos indicate, that the bike-rack-type fencing used that day created a danger because it provide no security and can be easily weaponized by violent protesters.
"The department prepared in order to meet these challenges, but we did not do enough," she said.
Pittman also acknowledged that two pipe bombs and a van with explosives had forced police to divert officers just as the main body of protesters was arriving at the Capitol.
Officers told CNN they believe the assault on the Capitol was timed to the bombs being found and was coordinated between insurrectionists on the east and west fronts of the building. The lack of any quick backup left officers stranded in thin lines attempting to keep a crowd of thousands from entering.
This story has been updated with additional developments Tuesday.
CNN's Annie Grayer contributed to this report.