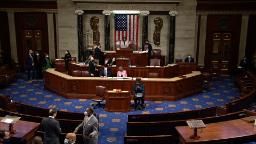 All four living former presidents — Barack Obama, George W. Bush, Bill Clinton and Jimmy Carter — derided the rioters who forced an evacuation of the House and Senate chambers of the US Capitol in strongly worded statements that stressed the need for a peaceful transfer of power.
"History will rightly remember today's violence at the Capitol, incited by a sitting president who has continued to baselessly lie about the outcome of a lawful election, as a moment of great dishonor and shame for our nation. But we'd be kidding ourselves if we treated it as a total surprise," Obama said of his successor and the chaos that engulfed the nation's capital Wednesday.
Supporters, spurred by President Trump, breached the Capitol complex on Wednesday and threw into question when Congress would resume counting Electoral College votes and declare President-elect Joe Biden the winner of the election.
"Right now, Republican leaders have a choice made clear in the desecrated chambers of democracy," Obama, a Democrat, said. "They can continue down this road and keep stoking the raging fires. Or they can choose reality and take the first steps toward extinguishing the flames. They can choose America."
Bush, the last previous Republican president, said that "this is how election results are disputed in a banana republic — not our democratic republic."
"I am appalled by the reckless behavior of some political leaders since the election and by the lack of respect shown today for our institutions, our traditions, and our law enforcement. The violent assault on the Capitol —and disruption of a Constitutionally-mandated meeting of Congress — was undertaken by people whose passions have been inflamed by falsehoods and false hopes," he added.