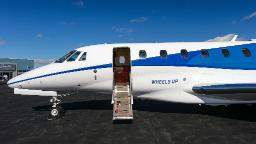 The wholesale retailer is offering its members a 12-month subscription to private jet service Wheels Up. It's priced at a
hefty fee of $17,499.99
(it's a private jet membership, after all), but it includes a $3,500
Costco
(COST)
Shop Card, a $4,000 flight credit and access to exclusive events.
Subscribers will also receive a one-year membership to Inspirato, which offers luxury vacation rentals, along with "guaranteed nationwide aircraft availability up to 365 days a year." That means you can book a flight with as little as 24 hours notice.
But there's a catch. The $17,500 only includes the right to book the flights, but doesn't include the costs of the flights themselves. Members can either "pay as they fly" or buy an additional "Fund Program" — not sold through Wheels Up — that provides lower rates and lower billable fly times.