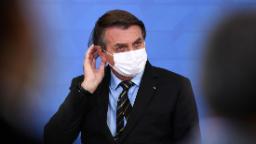 Now Generals Edson Pujul of the Army, Ilques Barbosa of the Navy, and Antonio Carlo Bermudez of the Air Force are out of their posts as well, Brazil's Ministry of Defense announced on Tuesday.
"The decision was communicated in a meeting in the presence of the (newly) appointed Defense Minister, Braga Netto, former Defense Minister Fernando Azevedo, and the Commanders of the Armed Forces," reads the official notice.
General Fernando Azevedo had been removed from his post as Brazil's Defense Minister the day before, when he issued a statement saying he had "preserved the Armed Forces as a State institution."
The three military leaders' successors will be selected by Bolsonaro from a list of names sent to him by each branch of the Armed Forces. Tradition calls for Bolsonaro to appoint the oldest generals.
The President hinted in recent weeks that he might decree a state of emergency against lockdown measures enforced by state governors, referring to the armed forces as "my army." According to the Brazilian press, the generals were being pressured to make public pronouncements in support of the president's plans.
A massive new surge of cases is piling pressure on the President. Brazil on Tuesday reported yet another record-breaking number of of Covid-19 deaths: 3,780 dead in the past 24 hours.
A total of 317,646 people are confirmed to have died due to the virus in Brazil since the pandemic began, and more than
12.6 million people in the country
have been diagnosed with Covid-19.