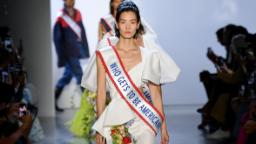 Following a wave of anti-Asian hate crimes taking place in the US in recent weeks, prominent figures from across the fashion industry are coming together to voice their concern and condemn the violence.
"A lot of this (violence) has been caused by misplaced hate and anger and frustration over the pandemic, to the point where our elderly have been attacked randomly," Lee said in an Instagram video. "It's not just the harassment and name calling with the "kung flu," it really has now moved to people being attacked and killed."
"We've been shouting it for months now and people don't seem to care," she continued.
In his own powerful post, Lim said watching viral videos of attacks and crimes targeting Asian businesses had been emotionally difficult. And that it wasn't until he reached out to Asian American friends and colleagues that he started hearing accounts of them being "bullied, harassed, attacked" in their own neighborhoods, over the past month.
Many in the Asian community are calling the seemingly unprovoked attacks hate crimes, spurred by racism and discrimination towards Asians during a year-long battle with the coronavirus in the US, and inflammatory language such as "China virus," and "kung flu" vocalized by former President Donald Trump.
"To build an equitable world, we have to be actively anti-racist," Gurung wrote in the accompanying post. "Anti-racism is not a hashtag but a life long commitment."
"I sit here feeling somewhat helpless, invisible, and semi-defeated because our Asian stories aren't being reported in mainstream media," Lim said. "It feels like we do not matter or exist."
"I'm sure you guys have your own family stories … with varying details of sacrifice, but I believe all with the common goal of searching for a better life," he continued, after showing photos of his family's journey immigrating to America to camera. "A safe haven with the promise of infinite possibilities and the freedom to pursue the American dream in a country we all call home.
"So I ask you as a fellow American, a fellow human being. Will you stand with me, will you stand with us, your fellow Americans, Asian Americans, to stop Asian hate?"
Top image: A look from Prabal Gurung's New York Fashion Week show in September 2019.