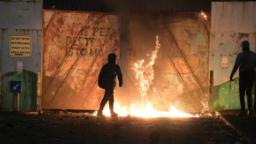 In west Belfast on Wednesday, rioters
clashed
along the so-called "peace line" dividing predominantly unionist and nationalist communities, with police struggling to close a gate designed to separate the areas.
A bus was set on fire on Lanark Way near the junction with Shankill Road,
police said
. Photos and
video
from the scene showed youths on both sides of the gate throwing projectiles across, including petrol bombs.
In a statement, Irish Taoiseach Micheal Martin condemned the violence and "attacks on police," adding the "only way forward is to address issues of concern through peaceful and democratic means."
"Now is the time for the two Governments and leaders on all sides to work together to defuse tensions and restore calm," Martin said.
"The way to resolve differences is through dialogue, not violence or criminality," Johnson said on Twitter.
While the LCC said opposition would be peaceful, the letter said the groups would not rejoin "until our rights under the Agreement are restored and the (Brexit) protocol amended to ensure unfettered access for goods, services and citizens throughout the United Kingdom."
LCC chairman David Campbell recently said: "it's very easy for matters to spiral out of control, that's why it is essential for dialogue to take place."
CNN's Nic Robertson and James Griffiths contributed reporting.