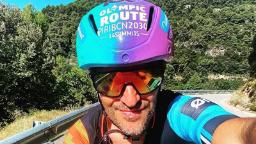 "Sad death of Sergi Mingote at K2," Sanchez
tweeted
. "He wanted to continue making history by being part of the first expedition to crown this mountain in the middle of winter and a tragic accident has ended his life. A big hug for the loved ones of this great athlete."
K2, part of the Karakoram Range that straddles the Pakistan-China border, is the second highest mountain in the world at 8,611 meters (28,251 feet).
A post
on Mingote's official Instagram account said: "Rest in peace Sergi. Today you start a new climb."
Just a day earlier, the mountaineer had
shared a post
announcing that he was on day 27 of his climb and had reached 7,000 meters.
A 'Savage Mountain'
Compared to the more than 4,000 people that have climbed Mount Everest — the world's tallest mountain at 8,848 meters (29,029 feet) — only 350 people had stood on K2's peak as of 2018 since it was first topped in 1954.
A team of 10 Nepali climbers on Saturday reached the top of K2 — marking the first time the summit has been climbed during the winter seasons, according to the expedition organizer Seven Summit Treks.
K2 was the only mountain over 8,000 meters that had not been summited in winter.
"The impossible is made possible," Nepali mountaineer Nirmal Purja, an ex-British Special Forces soldier, said on his official Instagram account after he and his team accomplished the rare feat. "History made for mankind. History made for Nepal," he wrote.
"We are proud to have been a part of history for mankind and to show that collaboration, teamwork and a positive mental attitude can push limits to what we feel might be possible," Purja said.
Sugam Pokharel and Rory Smith contributed to this report.