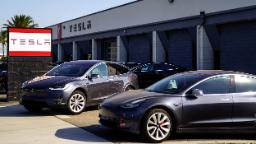 Tesla
(TSLA)
, which is now valued at more than
Toyota
(TM)
,
Disney
(DIS)
and
Coca-Cola
(KO)
, has a market cap of nearly $387 billion.
To be eligible to join the S&P 500, a company must be based in the United States, have a market capitalization of at least $8.2 billion, be highly liquid, and have at least 50% of its shares available to the public. Its most recent quarter's earnings and the sum of its trailing four consecutive quarters' earnings must be positive, as well.
Tesla will replace an S&P 500 company, information about which company S&P Global says will be released at a later date. The index committee says it's also considering whether Tesla should be added all at once or in two separate tranches.
There are over $11.2 trillion in assets benchmarked to the S&P 500,
according to S&P Global
, including $4.6 trillion of the total in indexed funds.
"Clearly this is a key positive for shares and indexing purposes and ultimately removes another question mark around the Tesla story going forward," Wedbush analysts Daniel Ives and Strecker Backe wrote in a note to clients.
Tesla shares were up more than 10% upon the news, according to Refinitiv.
In September, the S&P 500
stopped short of adding Tesla
to its index of companies, instead adding
Etsy
(ETSY)
,
Teradyne
(TER)
and Catelent. The three companies replaced
H&R Block
(HRB)
,
Coty
(COTY)
and
Kohl's
(KSS)
. Bullish investors were surprised by the news and held hopes the automaker would be added, after shares have surged more than 400% this year.
— CNN's Annalyn Kurtz and Clare Duffy contributed to this report.