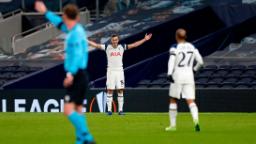 The English midfielder, around 50 yards from goal, lobbed the Ludogorets goalkeeper during Tottenham's 4-0 victory on Thursday.
And he didn't even mean it.
"You know I would love to say that I did (mean it), but I didn't mean it no," Winks
told
BT Sport after the win. "I saw Gaz (Bale) running and making that run. I will take it as it's a goal at the end of the day."
However, Winks' manager, Jose Mourinho,
joked
he was not happy that Winks admitted he didn't mean to score.
"He's too honest, I'm not happy with him! I told him, a goal like that you have to say that you want to do it. But he's a good kid, honest and he told the truth."