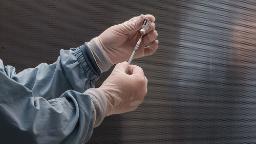 Even though 2020 is ending in a few hours, things won't change overnight. For many people this year has been filled with challenges and loss, while others have found silver linings.
Andrea Bonior, a clinical psychologist and psychology professor at Georgetown University, said there are things you can do to manage the stress and anxiety of the pandemic as we enter the new year.
Here are some tips:
Understand that grief can co-exist with silver linings
From realizing the importance of family, to creating a closer connection with your loved ones or accomplishing things you never previously had time to do, some people were able to find silver linings in 2020. But, at the risk of being insensitive to other people who are grieving losses, Bonior said there is a way for both of those to exist at the same time.
"We can also be grateful and also mourn losses at the same time. I think that's truly engaging with life," she said. "That's the ability to say there are bright spots here, but there's also darkness."
Don't be afraid to reach out for help
"If you have experienced severe loss, please reach out. There are people who care. There are people who love you," Bonior said, adding that no matter the size of your loss, it's important to reach out for support.
If you're spending the holidays alone, thank you
For the first time, many people are spending the holiday season alone and away from their families, but Bonior said it's an action that is saving lives.
"It hurts. There's no substitute for being away from family when you don't want to be," she said. "And yet hopefully when we're all out of this, you can have pride in the fact that you did your effort and keep people from dying."
Listen to your kids
As parents, we all want to say the perfect thing, but sometimes all our kids need is someone who listens to how they are feeling.
Bonior said its important to hear what their concerns are, validate their feelings and help them understand that there are baby steps you can take moving forward.
Watch Bonior's interview with CNN's Jake Tapper: