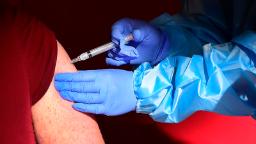 For the first time in nearly two months, current Covid-19 hospitalizations in the United States have fallen below 100,000, according to data from The Covid Tracking Project. 
On Saturday, the US reported 97,561 Covid-19 hospitalizations, the data shows.
Before then, the last time the US had fewer than 100,000 current hospitalizations was December 1, 2020 — 60 days ago.
On December 1, the United States had a 7-day average of roughly 163,000 new cases and 1,540 reported deaths per day, according to Johns Hopkins University.
Right now, the US has roughly the same new case average, but sees more than double the average daily deaths, with over 3,000 a day.  
Hospitalizations have been dropping consistently since the start of the year, according to CTP. This past week was the first week since November 5 that no state has reached a new record high for current hospitalizations, according to CTP.