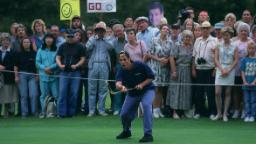 Dusting off his trusty driver, Happy Gilmore — the protagonist of the eponymous hit 90's movie, played by actor Adam Sandler — took to Twitter with his trademark run and swing.
The re-emergence of one of Sandler's great characters is to mark the 25th anniversary of the films release, and he took the opportunity to coax his nemesis Shooter McGavin out of the shadows.
"25 years since I've done this," he announced. "I'm scared!"
Never one to be upstaged, Shooter McGavin — Gilmore's rival in the film, played by Christopher McDonald — fired back.
"It's all about the short game," he declared. "Drive for show, putt for the dough!"
Award winning actor Ben Stiller, who played the nefarious nursing home owner who looks after — very poorly — Gilmore's grandmother, replied to Sandler's video.
The hit movie became a comedy reference point in pop culture when it was released in 1996, with both sport and movie fans celebrating its legacy.
"The golf legend forever lives on," it said.